Baby Massage Course
In the course you will learn to give the Shantala Baby Massage to your little one. Here I will share with you why other parents choose to do baby massage during the maternity period and tell you about the benefits for parents and baby. And below in the page you can book your baby massage course.
Giving your newborn a relaxing massage is a present experience. You will learn baby massage techniques step by step at the right pace for your baby. The gentle and loving baby massage has a positive effect on your baby's well being. Through the soft touches on baby's skin, your baby feels loved and cared for. The massage helps your baby to safely bond with you. It has a positive effect on bellyache, restless sleeping and tensions. Enjoy the one-on-one time with your baby in a peaceful comfortable and calm environment. In these precious moments you will feel closer to your baby.
The Shantala baby massage technique originates from India. In India, this traditional massage is passed on from mothers to daughters. The Shantala massage is suitable for babies and children.
Times
The baby massage course takes place on Friday afternoon.
When
You can join the course when your baby is more then 6 weeks of age. Baby massage is suitable until your baby starts crawling (until about 9 months of age).
For Who
The private course (English language) is for one or both parents with their baby.
The group course (mixed language) is for one parent with baby.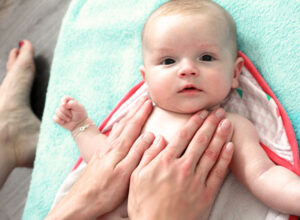 Practice Book
You will receive a baby massage practice book, written in English. The full massage is explained in steps and supported by clear images. The baby massage practice book is helpful to have when you practice the massage at home.
In the back of the practice book, you will find extra themes with helpful tips for a positive start with your new born. These themes are about; baby's skin, massage oil for baby's, attachment, sleeping and naps, crying, belly ache, baby's leaps in awareness, carrying while supporting the base and polarity massage.
The Space
The space is comfortable and calm. During the course you will sit on soft mattresses with back support. These comfortable chairs close to the floor makes massaging safe and your baby is close to you.
What do you bring
A hydrophilic cloth or small towel
A baby bath towel or baby blanket.
Your diaper bag with the usual baby care products.
A baby blanket for after class when going outside again.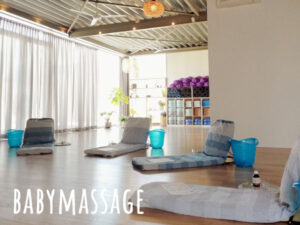 "I attended Shantala Babymassage course. Both I and my son enjoyed it very much. The facilities are very cozy what makes it very relaxing for the mother and child. Moreover, we got a lot of useful, essential information/guidance during the classes and in written. I was attending the mixed language course as an expat and Elke took special effort to make sure that I could understand everything (including an English translation of the course booklet). I recommend the place and the teacher!"
Baby Massage Group Course
For one parent with baby.
Mixed language (English & Dutch)
Including Practice Book (in English language)
Payment with IDEAL
Baby Massage Private Course
For one or both parents with baby.
In English language
Including Practice Book (in English language)
Payment with IDEAL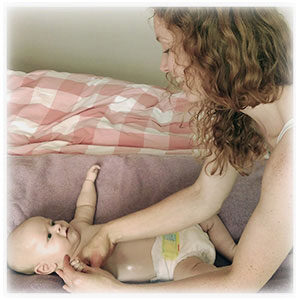 Elke about the Baby Massage Course
It's a delight to share this with other parents.
The baby massage course is a joyful experience. It's wonderful to see the parents connecting with their babies. The soft touches of the massage are like the language of the heart. Beautiful moments are shared between parent and child. Our daily thoughts that usually distract the mind, float to the background. Now creating space for these beautiful moments to simply be together, and give your full attention to your child.
Elke is a certified Shantala Baby Massage teacher since 2017. She has organized many courses, sharing joyful moments with parents and their baby's. She finds it's important that parents feel at home during the course. And feel free to give their baby the same attention and care, just as they would do when being at home.
The training Elke has completed is recognized by the Dutch Organisation for Shantala Massage Teachers (VSD).